Although I'm not making any formal endorsement for any mayoral candidates yet, I love the idea of a FREE CUNY again.
Click to view this email in a browser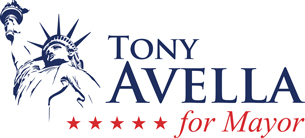 This is James Trimarco, Communications Director for Tony Avella's
campaign for Mayor of New York City. I wanted to make sure you
know that Councilman Avella supports working towards
the reinstatement of free tuition at CUNY.
No other Mayoral candidate this year comes close to
Tony in terms of supporting CUNY.

As Friday is the first day of classes, we'd like to have Tony stand
outside Hunter College—his alma mater—with a group of CUNY
students who support free CUNY Tuition, and talk about the history
and importance of this issue. This event will get media attention
and help raise awareness about CUNY issues.

Do you think you could come out and join us at Hunter College
this Friday at 11:00 am? We are looking for many students to stand
with us, and also for one or two who'd like to speak about their
struggles with rising tuition costs.

If you would like to be involved, please write me at
You can learn more about our campaign at http://cts.vresp.com/c/?TonyAvellaForMayor/1d1f4f821c/b8316e9d67/779bad278d.

Let's Stand Together,

James Trimarco
Communications Director
Tony Avella 2009
Forward this message to a friend (718) 855-7035 http://cts.vresp.com/c/?TonyAvellaForMayor/1d1f4f821c/b8316e9d67/68d1a138cc

---
---
Tony Avella For Mayor
2 Prince St
Suite 6006
Brooklyn, New York 11201
US

Read the VerticalResponse marketing policy.